Looking for CNA information that is specific to your state? Look no further!
Scroll down to find out more about CNA Training requirements, Testing processes, Renewal Procedures and Employment Options for your state!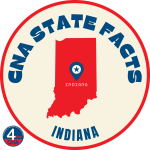 Indiana requires 105 hours of CNA training in a state approved program, including 30 hours of classroom instruction and 75 hours of clinical experiences. 
Summary: 105 hours training
Ivy Tech Community College performs CNA testing in Indiana. Qualifications for testing include:
 For new nurse aides

You must have completed an ISDH approved course comprising of 105 hours of classroom and clinical instruction.
You must the test within 2 years of completing the nurse aide program.

For aides certified in another state

You must be currently listed in good standing on another state's registry.
A letter from your employer indicating that you have worked for at least an 8-hour shift in the past 24 months is required.

For nursing students

You must have an official transcript of credits, indicating a grade C or better, directly from the Registrar to the Ivy Tech Community College.

You must pay for the following fees:

One section of the test – $65.00
Both sections of the test – $75.00
Failure to appear for a scheduled exam – full loss of fees
Returned facility check – $25
Replacement of documentation – $15 per request
CNAs in Indiana are required to renew their CNA certification every 2 years.
The cost to renew is free – $0.
The requirements for renewal are:
You must have worked at least 8 hours as a nurse aide in the past 24 months.
Summary: Free renewal fee; 8 working hours required
The employment outlook for CNAs in Indiana is good. As of 2018, there are 63,440 people employed as CNAs and it is projected to grow by 0% at 2028 making it to 63,300 employees. It's projected annual job openings between 2018 – 2028 is 7,090.
Summary: 7,090 projected annual job openings
The average pay rate for CNAs in Indiana is  is $33,469 as of September 26, 2022, but the range typically falls between $30,503 and $36,957.
Summary: $33, 469 average pay