Looking for CNA information that is specific to your state? Look no further!
Scroll down to find out more about CNA Training requirements, Testing processes, Renewal Procedures and Employment Options for your state!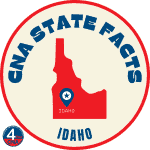 Idaho requires 120 hours of CNA training in a state approved program, including 80 hours of classroom instruction and 40 hours of clinical experiences. 
Summary: 120 hours training
PROMETRIC performs CNA testing in Idaho. Qualifications for testing include:
 You must have completed your state approved program.
Have successfully passed the Manual Skills evaluation within six months from when you successfully completed the training program.
You must pay the following fees:
Written Exam: $29
Oral Exam: $39
Idaho also grants permission to candidates who challenge the state exam with given qualifications. These includes, but are not limited to:
Successful completion of one semester of an accredited nursing school program as
evidenced by a transcript of required nursing courses
(not pre-requisites).
Successful completion of an approved Nurse Aide Training Program.
Verification of expired status on another state's nurse aide registry.
You can also review the Candidate Information Bulletin  for more information.
Summary: $68 testing fee with additional testing site fees; challenging the test is accepted
CNAs in Idaho are required to renew their CNA certification every 2 years.
The cost to renew is free – $0.
The requirements for renewal are:
You must work at least 8 hours in a PAID CNA, nursing/nursing related position in the two years before your expiration date to be eligible to renew for another 2 years.
Summary: Renewal is free; 8 paid working hours required
The employment outlook for CNAs in California is good. As of 2018, there are 7,530 people employed as CNAs and it is projected to grow by 18% at 2028 making it to 8,890 employees. It's projected annual job openings between 2018 – 2028 is 140.
Summary: 18% projected growth
The average pay rate for CNAs in Idaho is $32,332 as of September 26, 2022, but the range typically falls between $29,467 and $35,702.
Summary: $32, 332 average pay