Looking for CNA information that is specific to your state? Look no further!
Scroll down to find out more about CNA Training requirements, Testing processes, Renewal Procedures and Employment Options for your state!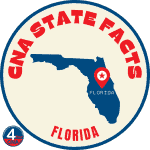 Florida requires 120 hours of CNA training in a state approved program, including 40 hours of clinical experiences. 
Summary: 120 hours training
PROMETRIC performs CNA testing in Florida. Qualifications for testing include:
Completion of a state-approved 120 hour CNA program with clinicals (requires school verification) or completion OR proof of other nursing training OR challenge the exam.
The Written exam can be taken in either English or Spanish. Audio (headphones) option is also available for the written exam for those that desire the computer to read the questions to you. The Clinical portion of the exam MUST be completed in English.
A Level II background screening is required to clear the candidate for testing by Florida Board of Nursing PRIOR to testing.
If you have never been trained as a nursing assistant in Florida or any other state and have no nursing assistant experience, and believe that you can pass the exam without training, you can challenge the state exam.
Summary: $155 testing fee; Challenging the test is permitted
CNAs in Florida are required to renew their CNA certification every 2 years.
The cost to renew is $55.
The requirements for renewal are:
You must complete a minimum of 24 hours of in-service training each biennium. In-service training hours shall include, but are not limited to, the following areas:

Bloodborne Pathogens, Infection Control
Domestic Violence
Medical Record Documentation and Legal Aspects Appropriate to Nursing Assistants
Resident Rights
Communication with cognitively impaired clients
CPR skills
Medical Error Prevention and Safety
Summary: $55 renewal fee; 24 hours in-service training required
The employment outlook for CNAs in Florida is good. As of 2018, there are 94,120 people employed as CNAs and it is projected to grow by 11% at 2028 making it to 104,510 employees. It's projected annual job openings between 2018 – 2028 is 12,170.
Summary: 11% projected growth
The average pay rate for CNAs in Florida is $32,550 as of September 26, 2022, but the range typically falls between $29,660 and $35,940.
Summary: $32, 550 average pay