Looking for CNA information that is specific to your state? Look no further!
Scroll down to find out more about CNA Training requirements, Testing processes, Renewal Procedures and Employment Options for your state!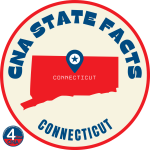 Connecticut requires 100 hours of CNA training in a state approved program which is coordinated by a Registered Nurse with at least 2 years experience, one of which must be in licensed chronic convalescent and nursing home.
CNAs must complete 16 hours in the following areas prior to any direct contact with the residents:
Communication and Interpersonal Skills
Residents Rights
Residents Independence
Safety and Emergency Procedures Including the Heimlich Maneuver, and
Infection Control
Summary: 100 hours training
Prometric performs CNA testing in Connecticut. Qualifications for testing include:
The approved certified nursing assistant training program require at least 100 hours of training
Training must include teaching basic theoretical components and clinical training in 25 competency skills
Clinical component must be offered in a licensed Rest Home with Nursing Supervision setting or in a licensed Chronic and Convalescent Nursing Home
You must also pay the following fees:
Clinical Skills Test and Written Test: $118
You can also review the Candidate Information Bulletin for more information regarding the testing process.
Summary: $118 testing fee
CNAs in Connecticut are required to renew their CNA certification every 2 years.
The cost to renew is $0 – free.
The requirements for renewal are:
Documentation that you have worked an eight (8) hour shift for compensation as a CNA or in a position providing direct personal/nursing care during the two year period immediately preceding the current expiration date.
Summary: Required 8 working hours as CNA
The employment outlook for CNAs in Connecticut is good. According to the Bureau of Statistics and Labor as of 2018, there are 16,970 people employed as CNAs and it is projected to grow by 7% at 2028 making it to 18,090 employees. It's projected annual job openings between 2018 – 2028 is 2, 080.
Summary: 7% projected growth
The average pay rate for CNAs in Connecticut is $37,070 as of September 26, 2022, but the range typically falls between $33,790 and $40,930.
Summary: $37, 070 average pay