Looking for CNA information that is specific to your state? Look no further!
Scroll down to find out more about CNA Training requirements, Testing processes, Renewal Procedures and Employment Options for your state!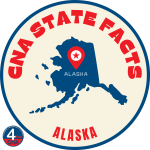 AK Department of Commerce, Community & Economic Development
Division of Corporations, Business and Professional Licensing
Board of Nursing
550 West 7th Avenue, Suite 1500
Anchorage, AK 99501-3567
Phone: (907) 269-8169
Fax: (907) 269.8196
Alaska requires 140 hours of CNA training in a state approved program, including 60 hours of classroom and 80 hours of clinical instruction. 
Summary: 140 hours training
CREDENTIA performs CNA testing in Alaska. Qualifications for testing include:
You must successfully complete a state-approved nurse aide training program and pass both the written and skills portions of the NNAAP examination.
The two parts of the examination process, the Written (or Oral) Examination and the Skills Evaluation, will be administered on the same day. You must pass both parts to
be certified and listed on your state's Nurse Aide Registry. The Written Examination consists of seventy (70) multiple-choice questions written in English. An Oral Examination may be taken in place of the Written Examination if you have difficulty reading English. 
The Oral Examination consists of sixty (60) multiple-choice questions and ten (10) reading comprehension questions. If you want to take the Oral Examination, you must request it when you submit an application to register for the examination.
At the Skills Evaluation you will be asked to perform five (5) randomly selected nurse aide skills. You will be given thirty (30) minutes to complete the five (5) skills. You will be rated on these skills by a Nurse Aide Evaluator.
You can review the Candidate Handbook for more testing information.
Summary: $330 testing fee
CNAs in Alabama are required to renew their CNA certification every two years in even-numbered years regardless of when a certificate was issued. Renewal notices are mailed at least 60 days prior to the expiration date.
The cost to renew is $100 or $50 depending on when your certification is originally issued.
The requirements for renewal are: 
You must have worked at least 160 hours performing CNA duties for monetary compensation.
You must have completed 24 Continuing Education Units (CEUs) 
Summary: 2 years renewal; $100 or $50 fee
The employment outlook for CNAs in Alaska is good. As of 2018, there are 2, 110 employees and it is projected to grow at 8% having the total employees to 2,2280 by 2028. It's projected annual job openings is 260 between 2018 – 2028.
Summary: 8% projected growth
The average pay rate for CNAs in Alaska is $38, 402 as of September 2022, but the range typically falls between $34,999 and $42,405. 
Summary: $38, 402 average pay rate